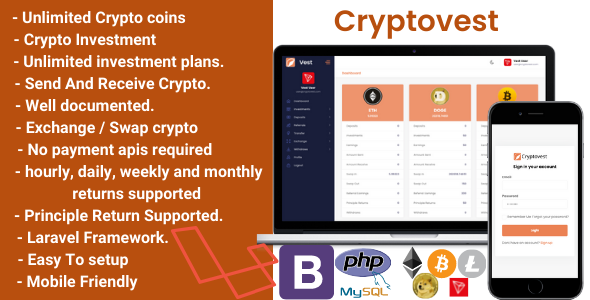 Cryptovest is a crypto investment and wallet platform developed in PHP / Laravel Framework. It has been structured to be easy to install in a few steps even without much developer expertise. It supports unlimited crypto currencies and deos not require any payment gateway integration. It comes with a straight foward documentation to guide you through the installation as well as excellent support and regular updates.
User Features
---
Deposit
Invest
Referral Earning
Send and receive Crypto
Exchange / Swap crypto
Withdraw
Secure dashboard
Dark Mode
Easy Signup / Login
Email Verification
etc..
Admin Features
---
Add and Remove currencies
Manage investment plans
Approve deposits and withdraws
Deactivate and Activate users
Manage admin accounts
Manage transaction charges
Manage user info
Track user activity
etc...
Demo
---
URL:
http://alpha.lakescripts.com
User Login
---
Email:
user@cryptovest.com
Password:
vestuser123
Admin Login
---
Email:
admin@cryptovest.com
Password:
vestmin123
Support Contacts
---
Email:
info@lakescripts.com / lakescripts@gmail.com
Telegram:
@lakescripts
Select License
Choose Suitable License